Are you ready to unleash your creative potential with Canva? Join our intensive 15-day Canva course and become a design pro in no time!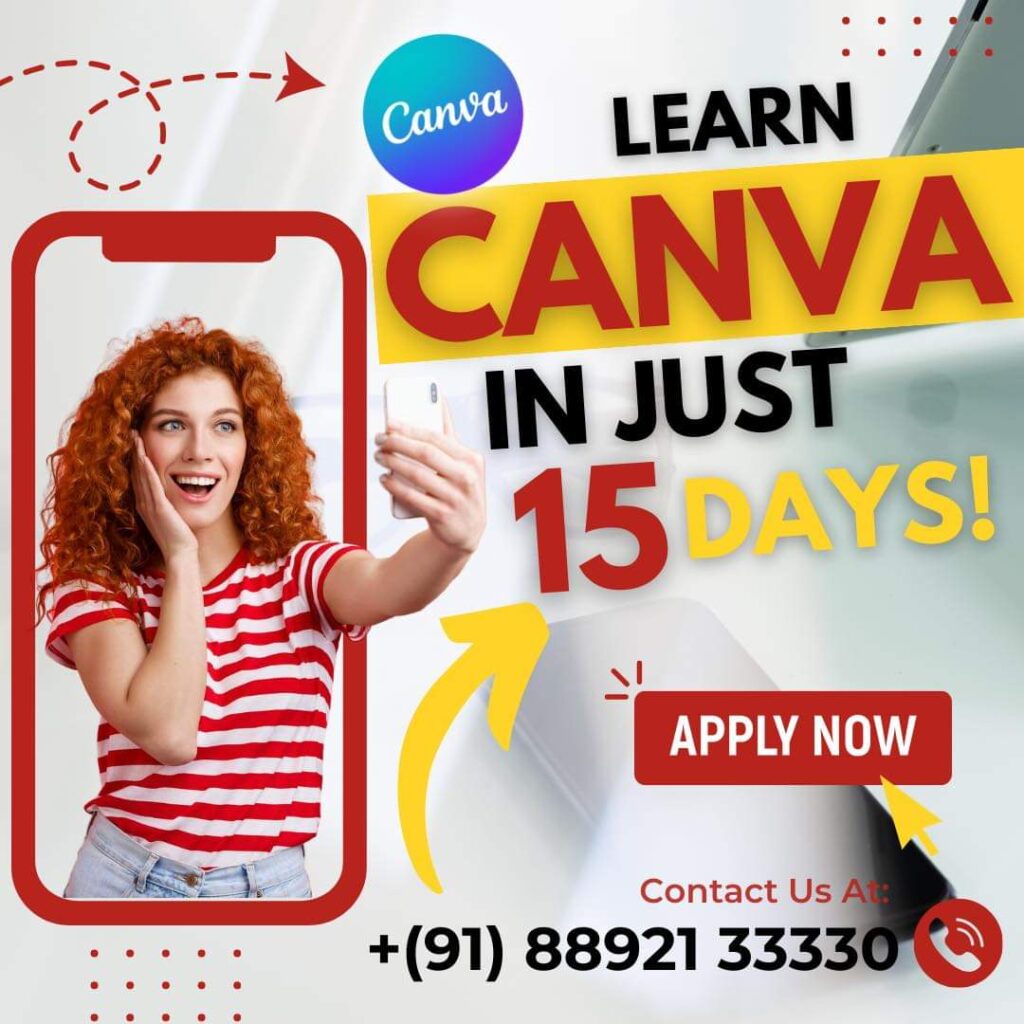 Course Highlights:
🖌️ Daily Hands-On Practice: Dive right into the world of graphic design with daily guided exercises and projects.
💡 Learn from Experts: Our experienced instructors will teach you the ins and outs of Canva.
🎓 Graduate with Confidence: By the end of the course, you'll have a stunning portfolio and the skills to take on any design project.
👥 Community Support: Join a thriving community of learners and share your progress and ideas.
Who Should Attend:
Aspiring designers
Small business owners
Marketers
Social media enthusiasts
What You'll Learn:
Lecture 1: Introduction to CANVA , Understanding design principles , Working with typography.
Lecture 2: Working with Images and Colors.
Lecture 3: Mastering Elements in Canva.
Lecture 4: Mastering Advance features in Canva.
Lecture 5 : Crafting stunning social media posts and Designing eye-catching posters.
Lecture 6: Mastering Videos and Short Videos in Canva
Course Details:
🗓️ Start Date: Regular Batches Running. Contact at given phone Number for more details.
👁️Mode : Offline available at Ludhiana Office and Online Classes available via Google Meet.
⌛ Duration: 15 Days
💰 Price: ₹3,000/-
📚 Materials: PPTs will be provided.
Don't miss this opportunity to level up your design skills and create visually stunning content with Canva. Register today to secure your spot in the course!
Applications of CANVA
Join Now and Get Free Canva Pro (Edu) Account
What can be designed in CANVA?
Social Media Graphics: Create eye-catching posts and covers for various social media platforms like Facebook, Instagram, Twitter, and LinkedIn.
Presentations: Design slides and presentations for business meetings, conferences, or educational purposes.
Flyers and Posters: Make promotional materials for events, sales, or announcements.
Business Cards: Design professional-looking business cards for networking and branding.
Logos: Create simple logos or modify existing ones to represent your brand.
Invitations: Design digital or print invitations for parties, weddings, or other events.
Brochures and Menus: Make informational materials for your business, restaurant, or organization.
Infographics: Visualize data and information in a compelling and easy-to-understand format.
Resumes and CVs: Craft visually appealing resumes for job applications.
YouTube Thumbnails and Channel Art: Customize visuals for your YouTube videos and channel.
eBook Covers: Design book covers for digital or print publications.
Postcards and Greeting Cards: Create personalized cards for special occasions.
T-shirts and Merchandise: Design custom apparel and merchandise graphics.
Website Graphics: Generate web banners, social media icons, and other visuals for your website.
Photo Collages: Arrange and edit photos to create collages or memory boards.
Event Tickets: Design tickets and badges for events and conferences.
Certificates and Awards: Create certificates and recognition awards for various achievements.
Visual Content for Email Marketing: Design visuals for email marketing campaigns.
Branding Materials: Develop consistent branding elements like letterheads, email signatures, and more.
Educational Materials: Create educational resources such as worksheets, lesson plans, and educational posters.